Hamas Terrorist Dies In Gaza Attack Tunnel Collapse
Hani Sami Salah, a member of the Hamas al-Qassam Brigades, joins many compatriots who have died or been injured in Palestinian "Work Accidents"
Posted by
William A. Jacobson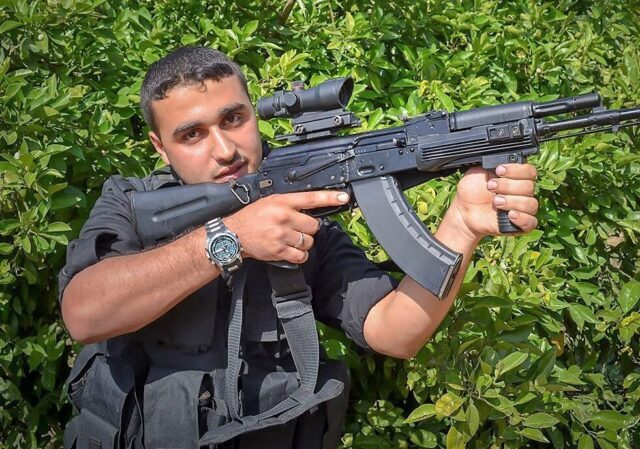 It was reported that a Hamas terrorist died when a tunnel collapsed on him in Gaza. This is one of a long line of so-called
Palestinian Work Accidents
, where a terrorist is killed through his or his group's error while preparing to attack Israel.
The Hamas Al-Qassam Brigades posted at their
website
about the death of Hani Sami Salah in a tunnel collapse (translation via Google Translate)
The Al-Qassam Brigades, the military arm of Hamas, announced today, Monday, December 6, 2021, the death of Hani Sami Salah during the preparation and preparation.
The brigades said in a statement to Quds Network: "The Martyr Izz al-Din al-Qassam Brigades, the military wing of Hamas, wedded to Al-Ula one of its knights, the faithful Mujahid al-Qassam: Hani Sami Salah (28 years), from the "Ard al-Rabat" mosque in the Al-Tuffah neighborhood, east of Gaza."
She added: "Salah rose after the collapse of a tunnel of resistance, to go to his Lord after a blessed life full of giving, jihad, sacrifice and bonding for the sake of God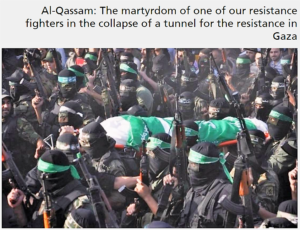 Hamas-affiliated Quds News posted the announcement on Twitter with photos of the deceased before and after: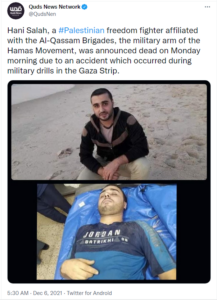 Photos of Salah holding a weapons also quickly
circulated
: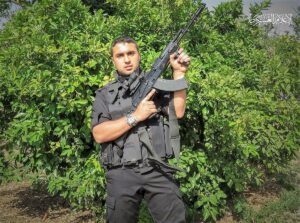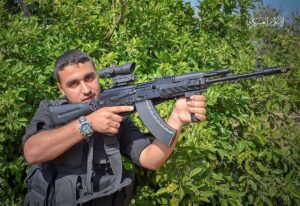 Jewish Press
provides more details:
A Hamas terrorist died as a result of the collapse of a tunnel east of Gaza City on Monday, several sources reported.
The terrorist was said to be Hani Sami Salah, 26, a resident of the Al-Tufah neighborhood in Gaza City.
This incident occurred just days after Maj. Avichai Adraee, the IDF's spokesman in Arabic, issued a warning to the residents of the Gaza Strip to stay away from Hamas' tunnels following several landslides in the area, the result of the collapse of Hamas' terror tunnel network….
It appears that the recent rains have brought to the collapse of the tunnels, many of which are built in the sand, and with cheap and weak materials. Several Gazans working for Hamas and the Islamic Jihad have died in these tunnel collapses in recent years.
According to data collected by the IDF, in 2016, 25 tunnels collapsed in Gaza, killing 21 tunnel diggers from Hamas, the Islamic Jihad and other radical organizations. In 2017, nine tunnels collapsed and tens of tunnels were destroyed by the Egyptian army as part of their crackdown on terrorist activity in the Sinai. These incidents resulted in the deaths of 33 members of Hamas and other Islamist organizations in the Gaza Strip.
Hamas has built over the years an elaborate underground city running under Gaza. The system in the Strip is meant to conceal Hamas' military activities and serve as a system from which to fight the IDF.
Israel attacked the vast tunnel complex
known as the "Metro"
during the May 2021 conflict sparked by extensive Hamas rocket fire on Israeli cities. Israel says a large portion of the Metro was destroyed, Hamas claims most of it survived.
The tunnel work continues, preparing for the next fight.
Salah joins many compatriots who have died or been injured in
Palestinian "Work Accidents"
:
Senior Hamas terrorist Imad al-Alami *accidentally* shoots himself in the head
Hamas explosives chief accidentally blows himself up
Palestinian rocket commander 'accidentally' blows himself up
Hamas terrorist killed when attack tunnel collapses on him
Gaza: Two PFLP terrorists killed when rocket they were firing exploded prematurely
Hamas Bomb Expert Blows Himself Up
Hamas Commander killed at Gaza border when 'hand grenade' exploded prematurely
Hamas member killed in "accidental explosion during preparation and training"
Hamas tunnel engineer "working on a tunnel underneath his home when it collapsed and killed him"
Reports: "Work Accident" blows up home of senior terrorist in southern Gaza
Gaza: Four Palestinian Islamic Jihad Terrorists Accidentally Blow Themselves Up
Explosives Stored In Gaza Terrorist's Apartment Accidentally Detonate, Destroying Building and Injuring Dozens
Report: Misfired Hamas test rocket hits Palestininan fishing boat, killing three
Iranian Man Accidentally Sets Himself On Fire While Burning Israeli Flag
Two Hamas Gaza Terrorists Blow Themselves Up Dismantling Unexploded Israeli Ordnance
VIDEO: Palestinian Terrorist Accidentally Ignites Himself While Throwing Molotov Cocktail