By Jagdish N. Singh
Israel has always been appreciative of New Delhi's security imperatives. New Delhi, however has yet to be fully appreciative of Israel's security imperatives.

New Delhi has yet to be morally conscientious enough openly to back Israel in multilateral fora such as the United Nations. One hopes Prime Minister Modi would show the statesmanlike leadership at which he is so expert and which makes him so admired.

Israel stands and fights for openness, diversity, truth and its existence, just as India does. India must back Israel. New Delhi also needs Jerusalem in combating Islamist terrorism, one of the greatest threats to its unity and territorial integrity.

The operational code of anti-India Islamist forces' behaviour is similar to that of Israel's Palestinian counterparts: spread the culture of hatred and violence against the free world. Israel knows better than anyone it how best to protect it against such elements.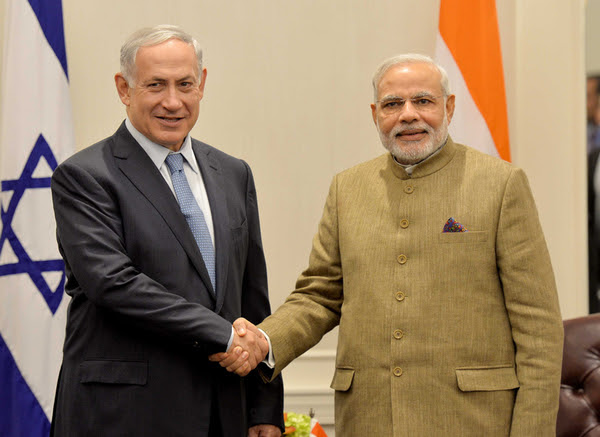 Israel's Prime Minister Benjamin Netanyahu meets with Indian Prime Minister Narendra Modi in New York, on September 29, 2014. (Image source: Israel Government Press Office)
Ever since former Indian Prime Minister P. V. Narsimha Rao decided in January 1992 to establish full diplomatic ties with Israel, relations between the two democracies have flourished in all fields. Socially, there have been unprecedented people-to-people exchanges. Today over 40,000 Israelis travel to India annually. Since the Israeli poet Amir Or translated the famous Indian epic he Mahabharata into Hebrew in 1998, more books of Indian poetry have been translated into Hebrew.
Economically, technologically and militarily, relations between India and Israel also have moved from strength to strength. In 1992 trade between the two nations stood at a meagre $100 million. Today this stands at $5 billion with the possibility of its being tripled if a free trade agreement is concluded between the two nations.