B

y

Bassam Tawil
Thanks to Abbas's falsehoods, his media continues to this day dishonestly to talk about "Jewish invaders and settlers storming" Islamic and Christian holy sites in Jerusalem. This and this alone is the source of the knife and car-ramming attacks against Israelis.

Perhaps by a "culture of peace" Abbas means calling -- as he and his top officials regularly do -- Israel an apartheid and racist state. Or maybe "culture of peace" means calling all Jews "occupiers" and "colonists" -- or denouncing and threatening Palestinian children who play soccer with Israeli kids. Or naming schools and electoral lists after convicted murderers?

Under Abbas, anti-Israel incitement and indoctrination is a business that has expanded exponentially. It has, in fact, grown to the point that a new generation has been raised on the glorification of jihadists -- a generation impatient to draw yet more Jewish blood. If this is Abbas's "culture of peace," one has to wonder what he would consider a culture of war?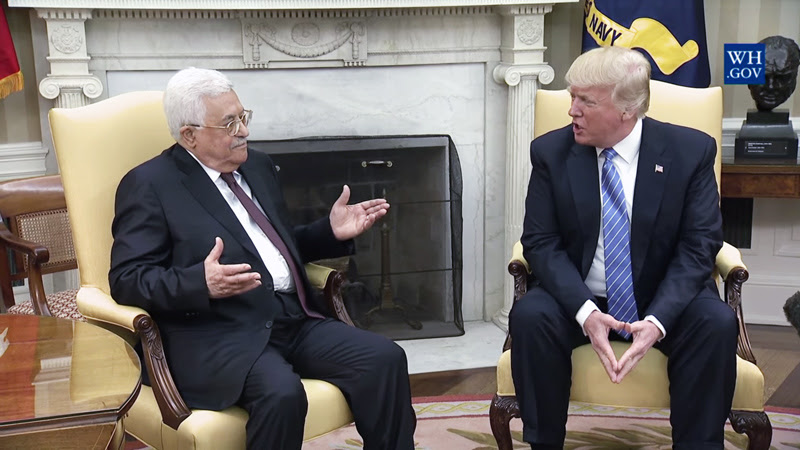 US President Donald Trump meets with Palestinian Authority President Mahmoud Abbas in the White House, on May 3, 2016. (Image source: White House video screenshot)
Palestinian Authority (PA) President Mahmoud Abbas may soon be known for his sense of humor. Like many Palestinians, Abbas believes that Westerners will swallow his lies wholesale. Abbas, for instance, ended his May 3 meeting with US President Donald Trump with the following whopper: "We are raising our youth, our children, our grandchildren on a culture of peace."
Abbas did not provide further details about the "culture of peace" upon which Palestinian children are being raised. Nor did anyone bother to ask Abbas or any member of his entourage to provide examples of the "culture of peace" in Palestinian society. Yet major Western media outlets were quick to publish Abbas's unmistakable lie.