By Giulio Meotti
In the Dutch province of Friesland, 250 of 720 existing churches have been transformed or closed. The Fatih Camii Mosque in Amsterdam once was the Saint Ignatius Church. A synagogue in The Hague was turned into the Al Aqsa Mosque. In Flanders, in place of a famous church, a luxury hotel now stands. Catholic arches, columns and windows still soar between menus and tables for customers.

"The French will not wake up until Notre Dame becomes a mosque." — Emile Cioran, author.

Germany is literally selling its churches. Between 1990 and 2010, the German Evangelical Church closed 340 churches. Recently in Hamburg, a Lutheran church was purchased by the Muslim community.

"History teaches us that these transformations are rarely innocent." — Bertrand Dutheil de La Rochère, assistant to Marine Le Pen.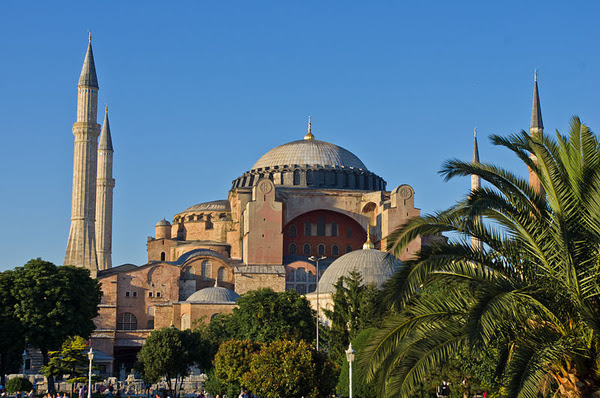 The Hagia Sophia in Istanbul was the grandest cathedral in the Christian world, until it was captured and converted to a mosque by the Muslim Ottoman Turks in 1453. The Middle East is full of churches and synagogues turned into Islamic sites. Today, every traveler in a modern European city can notice the new mosques being built alongside abandoned and secularized churches, some converted into museums. (Image source: Antoine Taveneaux/Wikimedia Commons)
Last year, at the famous Biennale artistic festival in Venice, Swiss artist Christian Büchel took the ancient Catholic Church of Santa Maria della Misericordia and converted it into a mosque. The church had not been used for Christian worship for more than forty years. Büchel decorated the baroque walls with Arabic writing, covered the floor with a prayer rug, and hid the crucifix behind a prayer niche indicating the direction of Mecca, the holy city of Islam. It was a provocation.
But everywhere else in Europe, the practice of Islam really is outstripping Christianity, while Jews are leaving -- not only France but the old continent -- en masse.