By Douglas Murray
Within a week, Britain's Labour party leadership was forced to suspend one of its newest MPs and one of its oldest grandees -- and both for the same reason.

Labour party leader Jeremy Corbyn and Ken Livingstone both say that they condemn anti-Semitism. They always tend to add that they also condemn "Islamophobia and all other forms of racism," a disclaimer that always seems a deliberate attempt to hide a hatred of Jews under the skirts of any and all criticism of Islam. What is most fascinating is that all the while they are saying this, they stoke the very thing they claim to condemn.

They pretend that the Jewish state does such things for no reason. There is no mention of the thousands of rockets that Hamas and other Islamist groups rain down on Israel from the Gaza Strip. The comment turns a highly-targeted set of retaliatory strikes by Israel against Hamas in the Gaza Strip into a "brutal" attack "on the Palestinians" as a whole. While mentioning those death-tolls, Livingstone has no interest in explaining that the State of Israel builds bunkers for its citizens to shelter in, while Hamas uses Palestinians as human shields and useful dead bodies for the television cameras, to help Hamas appear as an aggrieved "victim."

It is the narrative of the "left" on Israel that is causing the resurgence of anti-Semitism. It is not coming from nowhere. It is coming from them. If the left wants to deal with it, they first have to deal with themselves.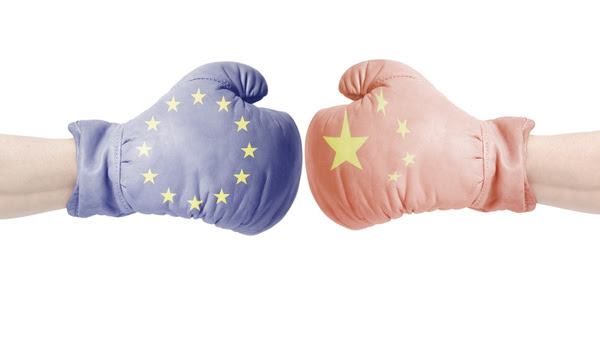 In 2009, Jeremy Corbyn (left, posing before a Hezbollah flag) said: "It will be my pleasure and my honour to host an event in Parliament where our friends from Hezbollah will be speaking. I also invited friends from Hamas to come and speak as well." Pictured in the middle is Hezbollah leader Hassan Nasrallah. Pictured at right is Hamas leader Ismail Haniyeh.
Every time anyone thinks Britain's Labour party has reached a new low of anti-Semitism, entirely new depths seems to open. In September, I wrote here about how the election of Jeremy Corbyn to the leadership of the Labour party constituted a "mainstreaming" of racism in the UK. Although Mr. Corbyn claims he does not have any tolerance for any hatred of anyone, he is a man who has spent his political life cosying up to anti-Semites and terrorist groups that express genocidal intent against the Jewish people. He has worked closely with Holocaust deniers, praised anti-Semitic extremists and described Hamas and Hezbollah as his friends.