By Giulio Meotti
The same hatred as from Nazis is coming from Islamists and their politically correct allies. We do not even have a vague idea of how much Western culture we have surrendered to Islam.

Democracies are, or at least should be, custodians of a perishable treasury: freedom of expression. This is the biggest difference between Paris and Havana, London and Riyadh, Berlin and Tehran, Rome and Beirut. Freedom of expression is what gives us the best of the Western culture.

It is self-defeating to quibble about the beauty of cartoons, poems or paintings. In the West, we have paid a high price for the freedom to do so. We should all therefore protest when a German judge bans "offensive" verses of a poem, when a French publisher fires an "Islamophobic" editor or when a music festival bans a politically incorrect band.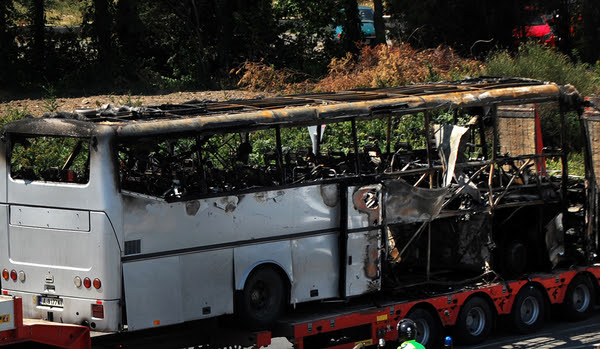 After the massacre of Charlie Hebdo's staff, very few media reprinted their Mohammed cartoons. Pictured above, Stéphane Charbonnier, the editor and publisher of Charlie Hebdo, who was murdered on January 7, 2015 along with many of his colleagues, is shown in front of the magazine's former offices, just after they were firebombed in November 2011.
It all occurred in the same week. A German judge banned a comedian, Jan Böhmermann, from repeating "obscene" verses of his famous poem about Turkish President Recep Tayyip Erdogan. A Danish theater apparently cancelled "The Satanic Verses" from its season, due to fear of "reprisals." Two French music festivals dropped Eagles of Death Metal -- the U.S. band that was performing at the Bataclan theater in Paris when the attack by ISIS terrorists (89 people murdered), took place there -- because of "Islamophobic" comments by Jesse Hughes, its lead singer. Hughes suggested that Muslims be subjected to greater scrutiny, saying "It's okay to be discerning when it comes to Muslims in this day and age," later adding: