By Giulio Meotti
Instead of fighting to save what is savable, French opinion-makers are already writing the terms of surrender.

By hybridizing cultures and rejecting Christianity, France will soon end up not even teaching also Arabic, but only Arabic, and marking Ramadan instead of Easter.

Instead of wasting their time trying to organize an "Islam of France", French political leaders, opinion makers and think tanks should look for ways to counter the creeping Islamization of their country. Otherwise, we may soon be seeing not only a "Grand Imam de France", but also lashes and stonings on the Champs Élysées.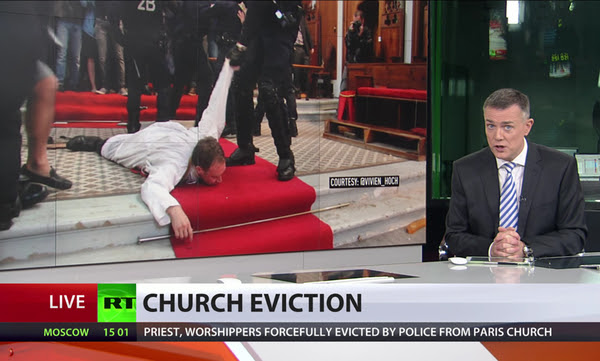 In his recent book, Will the Church Bells Ring Tomorrow?, Philippe de Villiers notes the disappearance of churches in France, and their replacement by mosques. Pictured above: On August 3, 2016, French riot police dragged a priest and his congregation from the church of St Rita in Paris, prior to its scheduled demolition. Front National leader Marine Le Pen said in fury: "And what if they built parking lots in the place of Salafist mosques, and not of our churches?" (Image source: RT video screenshot)
Two years ago, the rector of the Great Mosque of Paris, Dalil Boubakeur, suggested converting empty churches into mosques, to accommodate the growing Muslim community in abandoned Christian sites. Now, many people in France seem to have taken the idea so seriously that a report released by the foundation Terra Nova, France's main think tank that provides ideas to the governing Socialist Party, suggests that in order to integrate Muslims better, French authorities should replace the two Catholic holidays -- Easter

Monday

and Pentecost -- with Islamic holidays. To be ecumenical, they also included a Jewish holiday.
Written by Alain Christnacht and Marc-Olivier Padis, the study, "The Emancipation of Islam of France," states: "In order to treat all the denominations equally, it should include two important new holidays, Yom Kippur and Eid el Kebir, with the removal of two Mondays that do not correspond to particular solemnity".
By Guy Millière
In 1990, the "Gayssot law" was passed, stipulating that "any discrimination based on ethnicity, nation, race or religion is prohibited". Since then, it has been used to criminalize any criticism of Arab and African delinquency, any question on immigration from the Muslim world, any negative analysis of Islam. Many writers have been fined and most "politically incorrect" books on those topics have disappeared from bookshops.

The French government asked the media to obey the "Gayssot law." It also asked that history textbooks be rewritten to include chapters on the crimes committed by the West against Muslims and on the "essential contribution" of Islam to humanity. All history textbooks are "Islamically correct."

In hospitals, Muslims are increasingly asking to be treated only by Muslim doctors, and refusing to let their wives be treated by male doctors.
Police look on as a car, which was destroyed by rioters in a Paris suburb, is removed, on February 13, 2017. (Image source: Ruptly video screenshot)
February 2, 2017: A "no-go zone" in the eastern suburbs of Paris. Police on patrol hear screams. They decide to check. While there, a young man insults them. They decide to arrest him. He hits them. A fight starts. He accuses a policeman of having raped him with a police baton. A police investigation quickly establishes that the young man was not raped. But it is too late; a toxic process has begun.
Without waiting for any further evidence, the French Interior Minister says that the police officers have "behaved badly." He adds that "police misconduct must be condemned". French President François Hollande goes to the hospital to give his support to the young man. The president says he has conducted himself in a "dignified and responsible manner." The next day, a demonstration against the police is cobbled together. The demonstration turns into a riot.