by

Josef Zbořil
"If you want the unspoken truth, Islamic migration is not possible to integrate, and it is not capable of being assimilated into European culture. " — Miloš Zeman, President of the Czech Republic.

"This country is ours. And this country is not and can not be for all." — Miloš Zeman.

"In my opinion, much of the guilt lies on the current leadership of the European Union, which is totally incompetent, bureaucratic, causing the alienation of European citizens from European institutions... We do not need censorship, we do not need an ideological police, we do not need a new press and information office if we are to continue living in a free and democratic society..." — Miloš Zaman, 2016.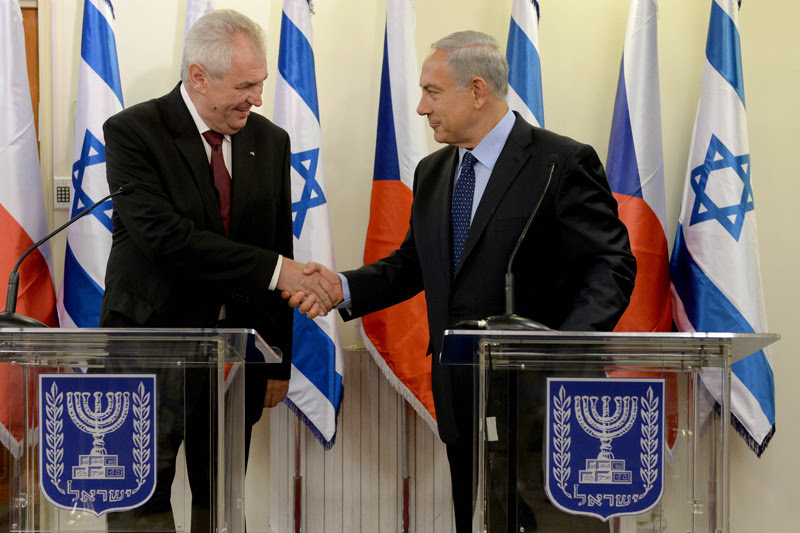 Pictured: Czech Republic President Milos Zeman (left) with Israeli Prime Minister Benjamin Netanyahu in Jerusalem, Israel on October 7, 2013. (Photo by Kobi Gideon/Israel GPO via Getty Images)
Czech President Miloš Zeman, it was recently said, is "a world leader guided by principles, a man not only knows right from wrong, but has never been afraid to voice it. " Known for his longstanding support for the US, Israel and the Jews, he was the only European president publicly to support then-candidate Donald Trump before the US presidential election.
The historical relationship of Czechoslovakia, later the Czech Republic, towards Israel is most likely based on when the Czechs were overrun by Hitler in 1938, and learned the hard way that "appeasement never works". Zeman defends the Czech presidents' motto: "Truth prevails".
A Euro-federalist and leftist, Zeman became known to the public in August 1989, three months before the Velvet Revolution, thanks to an article, "Prognostics and Perestroika." In it, he criticized the totalitarian Czechoslovak régime at that time: