BS"D
Pesach 5778
by HaRav Nachman Kahana

A PESACH THOUGHT

In parashat Bo, HaShem discloses the four stages to redemption that He will provide for the Jewish nation (Shemot 6,6-7):

(ו) לכן אמר לבני ישראל אני ה' והוצאתי אתכם מתחת סבלת מצרים והצלתי אתכם מעבדתם וגאלתי אתכם בזרוע נטויה ובשפטים גדלים: (ז) ולקחתי אתכם לי לעם והייתי לכם לא'להים וידעתם כי אני ה' א'להיכם המוציא אתכם מתחת סבלות מצרים

6 Therefore, say to the children of Israel: 'I am the Lord, and I will bring you out from under the yoke of the Egyptians. I will free you from being slaves to them, and I will redeem you with an outstretched arm and with mighty acts of judgment.

7 I will take you as My own people, and I will be your God. Then you will know that I am the Lord your God, who brought you out from under the yoke of the Egyptians.

Analogous to the four stages of redemption (bring you, free you, redeem you, take you) our rabbis established the requirement of drinking four cups of wine on the seder night.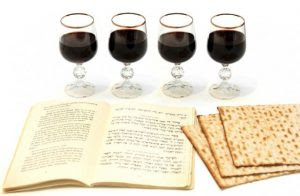 Question: There is a fifth stage in the exodus saga (6,8):


(ח) והבאתי אתכם אל הארץ אשר נשאתי את ידי לתת אתה לאברהם ליצחק וליעקב ונתתי אתה לכם מורשה אני ה

And I will bring you to the land I swore with uplifted hand to give to Abraham, to Isaac and to Jacob. I will give it to you as a possession. I am the Lord.'"

Why didn't the rabbis require drinking a fifth cup of wine?

What is Eliyahu's Role?

Eliyahu HaNavi (Elijah the Prophet) appears twice in the Pesach Seder; once when we fill up the cup with wine in his honor and again when we open the door for him with our request that HaShem pour out His wrath on the evil nations of the world.

Question: what is Eliyahu's involvement with the Egyptian exodus that induced his inclusion in the seder? And why in these two capacities?

I submit:

On this night two Torah mitzvot are in effect – to eat matza and relate to our children the slavery episode and the miraculous exodus.

The hagada describes a dysfunctional family where generational and ideological gaps exist between parents and children. Father is perplexed by his obligation to transmit the heritage to children who are either uninterested in the glorious past of our nation, or incapable of understanding its implications.

Enter Eliyahu HaNavi. How?

The Prophet Malachi states (3,23):

(כג) הנה אנכי שלח לכם את אליה הנביא לפני בוא יום ה' הגדול והנורא:
(כד) והשיב לב אבות על בנים ולב בנים על אבותם….
Now. I will send the prophet Elijah to you before that great and dreadful day of the LORD comes. He will turn the hearts of the parents to their children, and the hearts of the children to their parents…
The future mission of Eliyahu is to restore the family functions and relationships to their intended status, where children are inculcated with parental wisdom and seek to follow in their footsteps.

Eliyahu will heal the divisions in our nation caused by 2000 years of galut in two ways, which are expressed in the two times he is mentioned in the hagada.

The fifth cup of wine represents the fifth stage of redemption "I will bring you to the land" as quoted above, whereby the Jewish people will escape the wretched galut and begin closing our religious and ideological gaps.

The second and final re-unification will be when HaShem will use the army of Israel, Tzahal, to pour out His wrath on the evil nations of the world.

This will be the task of Eliyahu HaNavi who is the forerunner of the Mashiach, to re-unite the various factions of Judaism into one united people under the Torah.

CHAG SAMAYACH
Nachman Kahana
Copyright © 5778/2018 Nachman Kahana