by

Majid Rafizadeh
As a long-time Iranian, I can tell you that the support of the US and President Trump is invaluable to the ordinary Iranians: they feel helpless and alone in the face of the monsters who have been oppressing them for so long.

On Persian social media outlets and apps such as Telegram, which is extremely popular among Iranians, people are cheering the US support. People are asking the US to support them in other ways as well, in addition to helping them bypass the internet-blocks and shut-downs that the Iranian regime recently implemented.

If the Iranians succeed in changing this Islamist regime, it will bring down the highest state sponsor of terrorism, the leading regime in human rights violations, the top state sponsor of anti-Americanism and anti-Semitic propaganda. Iran, with its current regime, is a danger not just to its long-suffering people, but to everyone. These protesters, who are flooding the streets and demanding that their voices be heard, are committing acts of heroism that will be felt throughout the world and throughout history.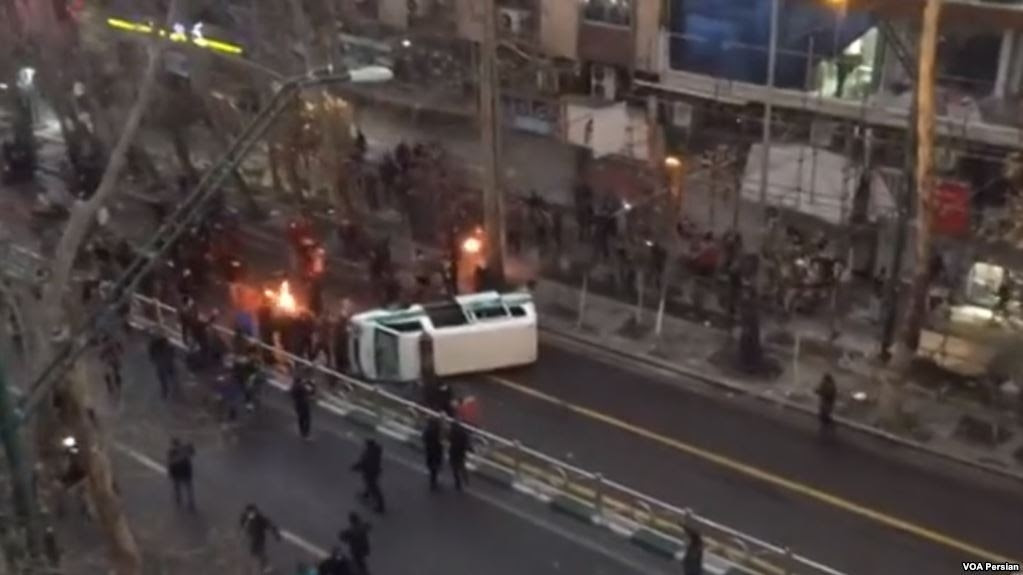 Protesters on Valiasr Avenue in Tehran, Iran this week. (Image source: VOA)
Remember, just eight years ago, that the people of Iran rose up in their millions against their Islamist dictatorship. The US administration at the time stayed abhorrently silent. People on the streets chanted, "Obama, Obama, are you with them [mullahs] or with us?"
Washington did not offer support. The administration's dismissal not only enabled the mullahs brutally to crush the demonstrations with impunity; the mullahs were even rewarded with a deal that would enable them to have a legitimate nuclear weapons capability down the road, as well as billions of dollars.
Obama and the Iranian regime sold the world the idea that the nuclear agreement, appeasement policies towards the mullahs, and the lifting of UN sanctions would supposedly help the Iranian people and make the Iranian government a constructive player. All facts show, then as now, that the opposite took lace