By Yves Mamou
"[W]hoever was imprisoned for five years or more is entitled to a job in a PA [Palestinian Authority] institution. Thus, the PA gives priority in job placement to people who were involved in terrorist activity." – Yigal Carmon, president of the Middle East Media Research Institute (MEMRI), in testimony to the US House Committee on Foreign Affairs, July 6, 2016.

In 2016, not less than $300 million (between 7% and 10% of the budget) was allocated to prisoners, their families, and to "martyrs' families."

In June, an independent report commissioned by the Britain's Department for International Development concluded that by enabling the PA to pay salaries to terrorists, British aid to the PA had made anti-Israel terror "more likely." DFID dismissed the report.

Palestinian society is totally built and organized on the basis of "resistance". It is a society where jobs, fame and money go to people who are in, or who have spent years in, Israeli jails. There, legitimacy goes to people who are considered "martyrs."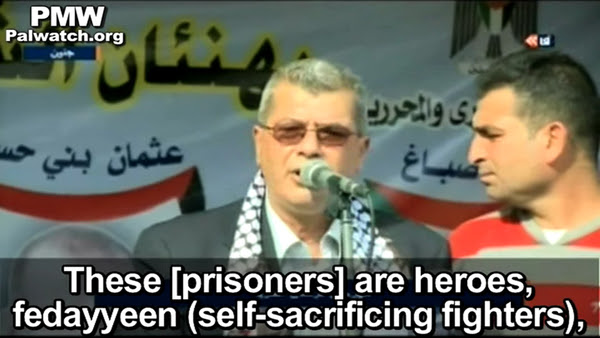 PA Minister of Prisoners' Affairs Issa Karake, speaking at a rally in November 2013, defends the use of EU aid money to pay "salaries" to imprisoned terrorists, saying "The Europeans want their money that comes to us to remain clean -- not to go to families of those they claim to be terrorists. [They] need to renounce this occupation mentality." (Image source: Palestinian Media Watch)
Crime is not supposed to pay in any country, but for Palestinians in the West Bank, crime helps you become a public officer.
In this small piece of land, headed by Mahmoud Abbas and the Palestinian Authority (PA), every killer of a Jewish Israeli citizen is called "martyr." This word "martyr" means that each time a Palestinian stabs a Jew, he accomplishes an act of pious virtue. And because the killer is a good Palestinian Muslim, his family becomes eligible for regular payments from the Palestinian Authority's "martyr's fund." This fund is used financially to compensate Palestinian prisoners and the families of "martyrs."
After a 17-year-old Palestinian, Mohammed Tarayra, stabbed to death a sleeping 13-year-old Israeli girl, Hallel Yaffa Ariel, in her bed in the town of Kiryat Arba, the terrorist's house was decorated with Fatah and PLO flags. No doubt the family will be soon on the list of payments from the Palestinian "martyr's fund."