B

y

Stefan Frank
The way WDR broadcast it, however, was unique: at the beginning of the film and in brief intervals throughout, warning signs were inserted again and again, indirectly urging viewers not to believe what they saw in the film.

The film is not about anti-Semitism among neo-Nazis; it is about its acceptance by the mainstream mass media, politicians, left wingers, Muslim "Palestine" activists, rappers and church organizations.

"France is the Western country with the highest number of Jews murdered in the 21st century. Fourteen people were killed because they were Jews. All of them were killed by Muslims, not by right-wing extremists. ARTE would never want its viewers to find that out. The filmmakers... exposed the lies and thereby ARTE's false narrative." — Jean Patrick Grumberg, editor, French language news website Dreuz.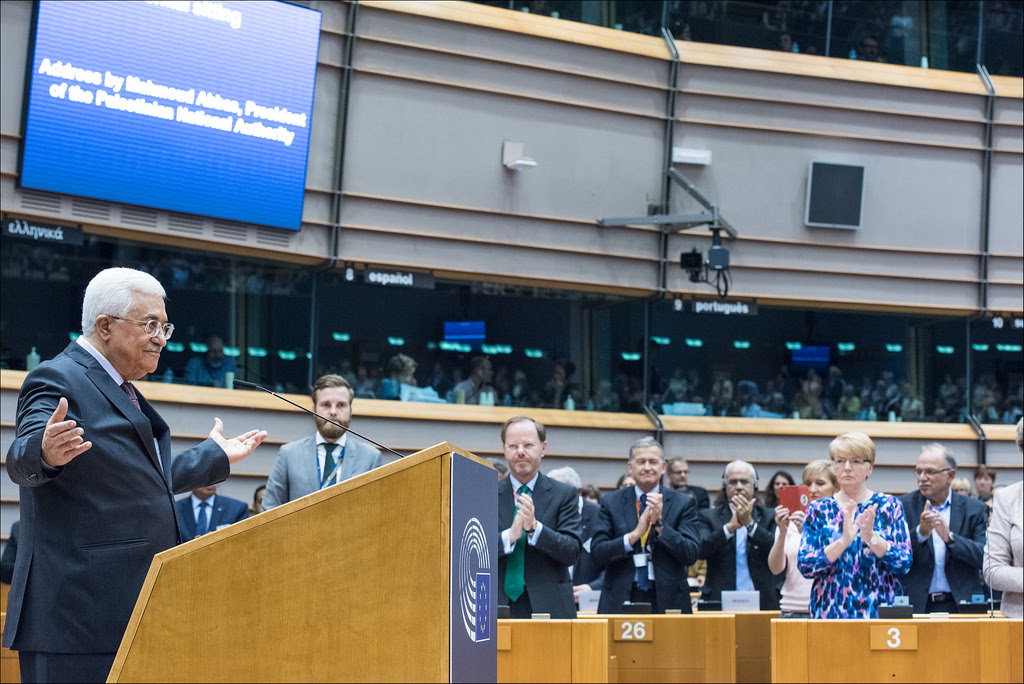 Palestinian Authority President Mahmoud Abbas receives a standing ovation at the European Parliament in Brussels, after falsely claiming in his speech that Israeli rabbis were calling to poison Palestinian water. Abbas later recanted and admitted that his claim had been false. (Image source: European Parliament)
A Franco-German film that no one in Europe is allowed, by law, to see has become the source of a major scandal, and its creators the targets of unprecedented smear and hate campaigns from Germany's public broadcasters.
At the center of the scandal are two of Europe's biggest media companies, the Westdeutsche Rundfunk (WDR) -- with 4,500 employees and an annual budget of 1.4 billion euros -- and the Franco-German culture channel, ARTE.